The time has already come for a revolution!
No-code tools and platforms are here for you to create anything you can imagine without the need to hire software developers or learn to code! From launching websites, building workflow automations, and developing apps, no-code platforms can help businesses grow a lot faster, easier and cheaper.
Let's begin with a basic question before getting to know very useful 12 no-code tools that will help you a lot!
What is No-Code?
Well to be precise, no-code is a method of programming that involves building web technologies by using GUI(Graphic User Interface)-based tools, instead of writing code. It allows you to find business solutions by simply visualizing the processes and designing the user screens. No-code development platforms replace the coding with clicking or just drag and drop.
No-Code Movement
We are at the gate of a revolution. Some people mistakenly think that the no-code movement is here to replace software development. Of course not. It is here to make your life easier.
No-code tools and no-code platforms have been removing the technical barriers and unlocking many opportunities for everyone. Yes, you heard right, for everyone! There are a lot of things that you can easily do with no-code tools, that will otherwise cost you a lot of money or make you spend a lot of time to build your startup or grow your business. That's what makes the no-code revolution great!
Now, It's time to present you 12 no-code tools that will be very helpful throughout your journey!
Bubble
Voiceflow
Carrd
Zapier
Airtable
Shopify
Webflow
Thunkable
Stripe
Scapic
Glide
Mailchimp
1. BUBBLE
If you want to build your web application without having to know any coding languages, then Bubble will be your best buddy! It allows you to build, prototype and launch any idea very fast.
Bubble offers a lot of features for functional customization and editing your homepage very easily. The "drag-and-drop" user experience makes it very efficient to see instant results.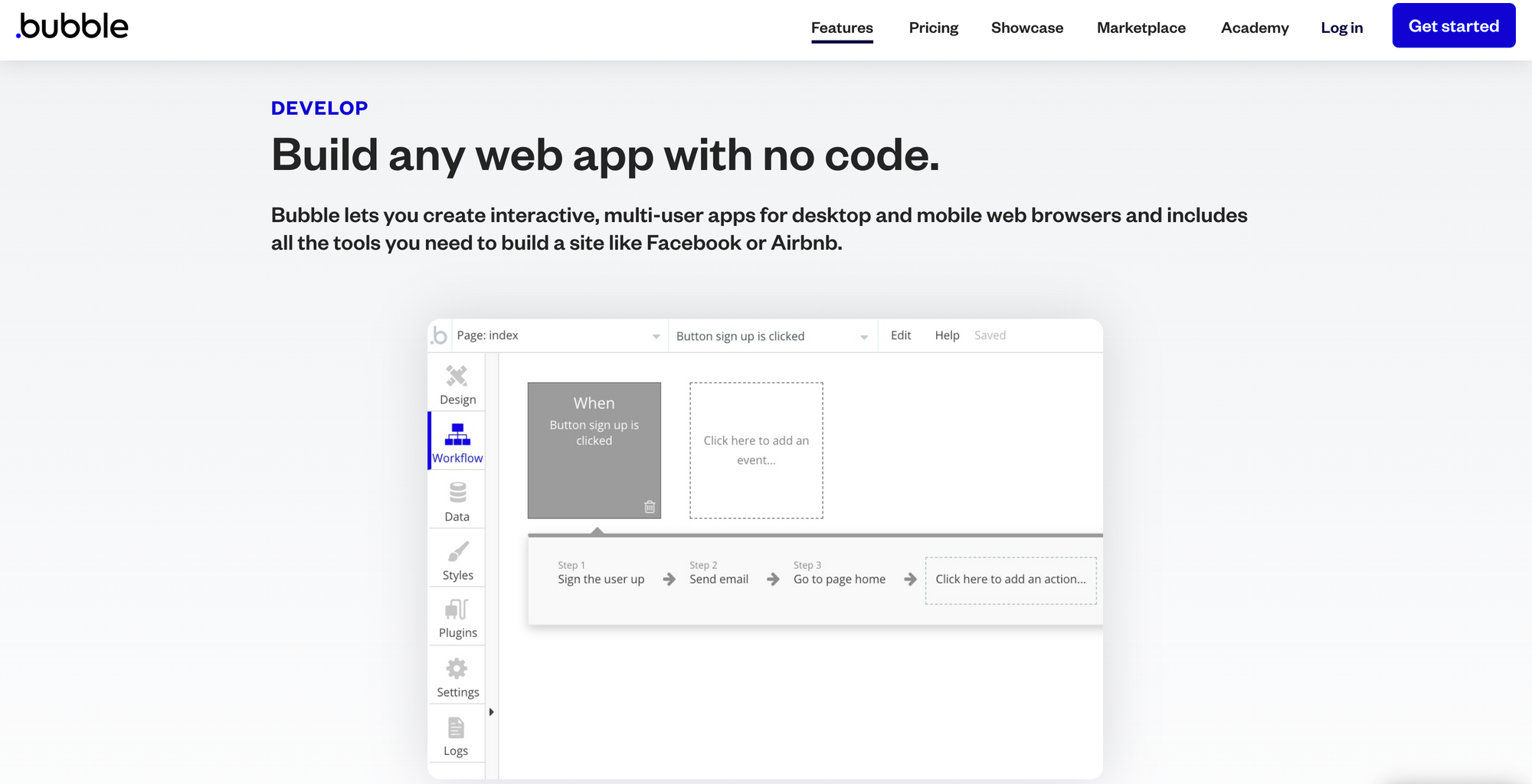 Bubble is a very good no-code tool to build your app and create your startup with low-cost options, especially if you don't want to wait months or pay so much money for something to build by hiring a developer.                                                       It has a free tier named as "hobby" account including core features but if you want a custom domain and more advanced settings you can upgrade it to the "personal" account for $25 per month.
2. VOICEFLOW
The market for voice apps has grown exponentially over the years due to the popularity of the Google Assistant and Amazon's Alexa. Since these apps have now more than 80,000 skills, building a voice app seems very hard, right?
That's the part where Voiceflow comes to the stage. It's a no-code development platform with a very simple user interface. Voiceflow allows you to build different kinds of voice apps without coding and just by arranging drag and drop blocks.

If you wish to have a voice application for your business quickly and effectively, just give Voiceflow a try. The best thing Voiceflow offers is a very generous free plan which includes unlimited projects and all the core features!
3. CARRD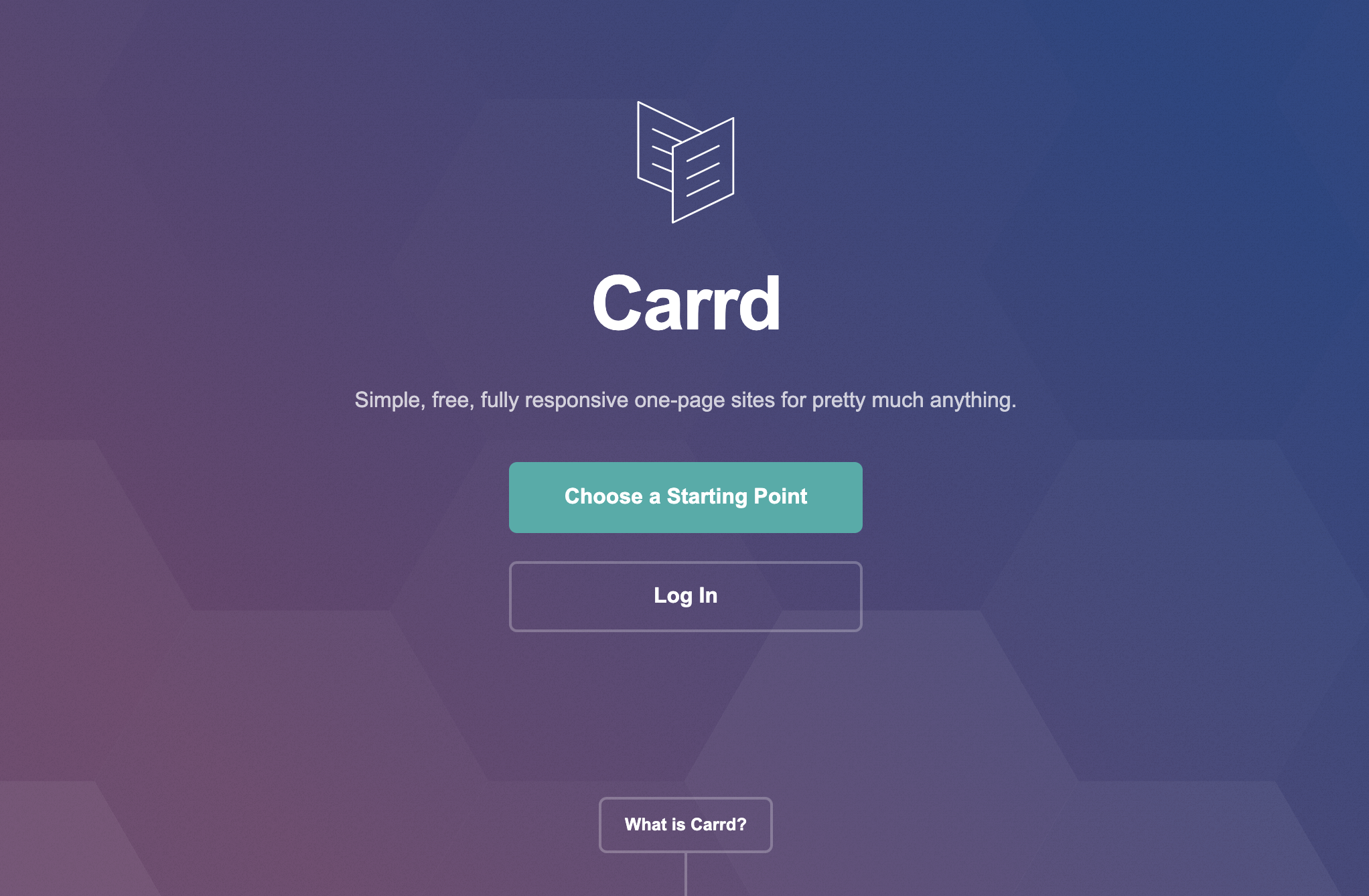 If you are one of the people who needs only one-page-site, then you will be very glad to use beloved no-code web app builder, Carrd. It has two great features that set it apart from other website builders: Its simplicity and price!
Carrd allows users to build and customize one-page-sites very easily and quickly by using great templates or from scratch. You can build three websites with all the core features for free. If you think that's not enough then you just need to pay for $19 per year.
4. ZAPIER
You can consider Zapier as a glue that connects more than 1500 web applications with each other. It is also a great platform for automating your workflow tasks without needing any complex coding.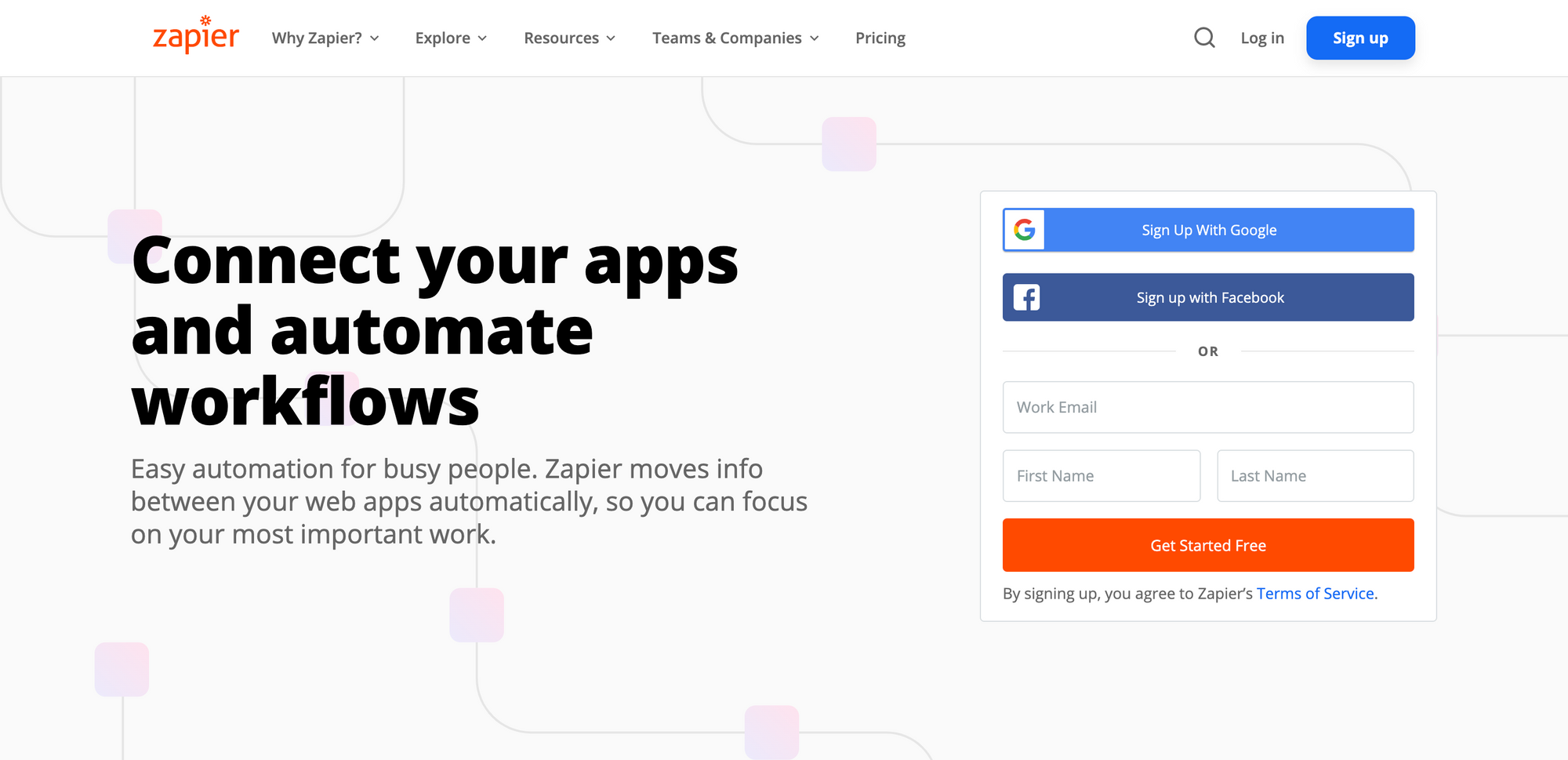 Zapier has opened the gate for many startups and businesses to integrate their apps with other popular platforms including web apps such as Google Sheets, Mailchimp and Hubspot. Integration and automation processes can be very tough to create with coding. We are lucky to have Zapier as a no-code platform for making it possible with only a few clicks.
It has a good list of free options and cheap monthly costs if you want to have more advanced features. You can get 100 tasks per month, and have 5 Zaps (Integrations) running at the same time for free. The next tier up provides you with 750 tasks per month, and 20 Zaps for $19.99 a month.
5. AIRTABLE
Meet with the all-inclusive no-code tool! Yes, you can use Airtable essentially for anything. It is a spreadsheet-database hybrid and it is considered as a project management app because of its productivity features. However, there are lots of use cases and many templates in Airtable that you can use for content management, personal CRM, user research collection, design management and plenty more!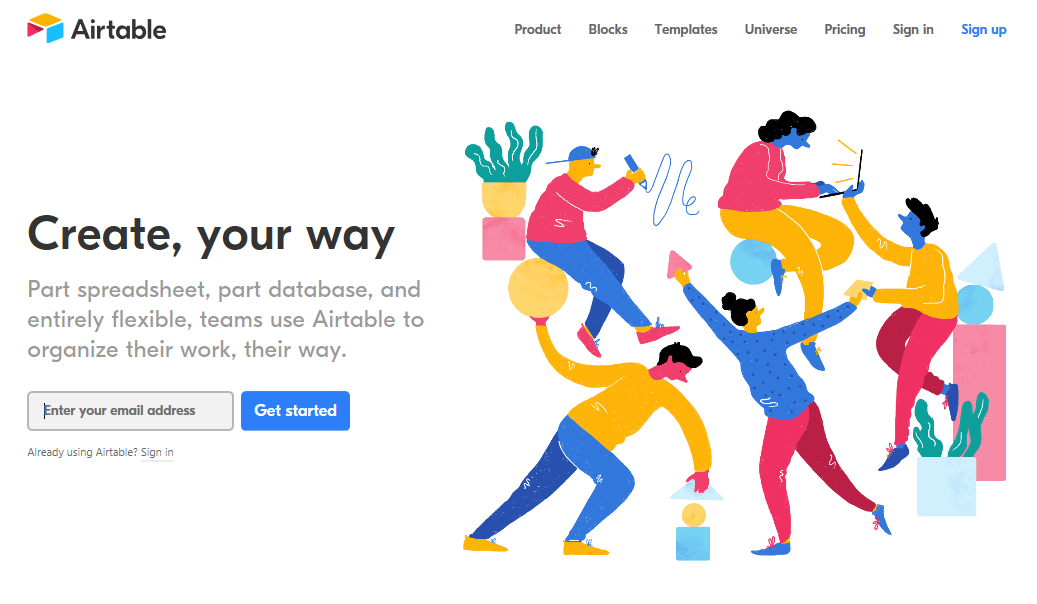 Another amazing thing about Airtable is you can use it online and communicate with your colleagues constantly. Thanks to its functionality as a database and user interface of a spreadsheet, it allows you to create database-focused internal tools and integrate your work with other platforms!
Airtable offers a great free deal with 1200 records, 2 GB space and all its features. By upgrading to the next tier, you can get 5000 records and 5 GB attachment space for $20 a month.
6. SHOPIFY

Shopify is the no-code platform that you can build your e-commerce site, promote your product and sell it very easily. You can even do the shipping part within Shopify by adding Oberlo to your account. You will find different kinds of tools inside of Shopify to improve your business and make more profit!
Unfortunately, Shopify does not offer a free tier but at least you can use a 14-day free trial to understand what a great no-code tool it is for your e-commerce business. You need to pay $29 for the basic plan that includes unlimited products.
7. WEBFLOW
Sometimes, even if you don't know anything about coding, you may want to feel cool like coders (as they show in Hollywood movies) while creating something complex.Well, as a no-code website builder, Webflow will make you feel like that for sure.
Most website builders will limit you to some extent about customization. You will not be faced by any limit and have flexibility everywhere with Webflow. It is great to work on every little detail. That's why if you need a very professional and complex website, your choice should be Webflow with it's easy to use interface.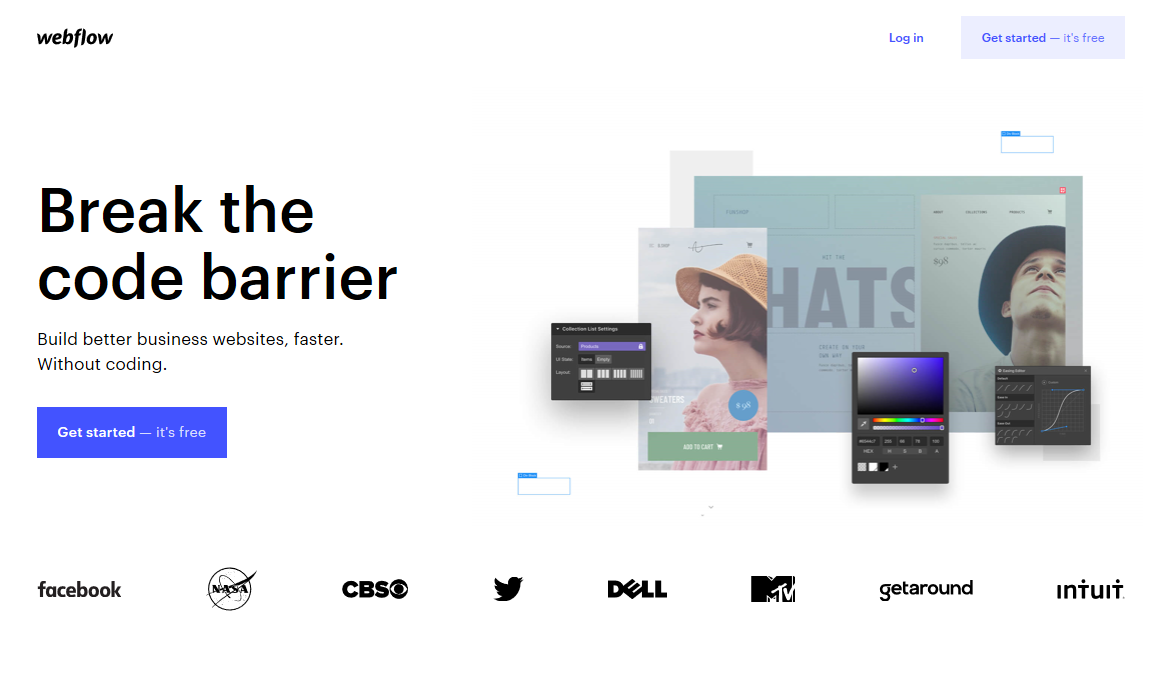 You can give it a try for free which allows you to have 2 different projects and then upgrade your account to "Lite" for $16 or to "Pro" for $35 per month for advanced features.
8. THUNKABLE
This no-code development platform is for not building web apps but for creating mobile apps! With Thunkable you will be able to build your mobile app and launch it on iOS and Android without any further efforts.

Thunkable has a drag and drop functionality that will allow you to connect different kinds of functional components very fast and easily. I am pretty sure that it will satisfy you by a free account that offers 10 public projects with 200 MB account storage.
9. STRIPE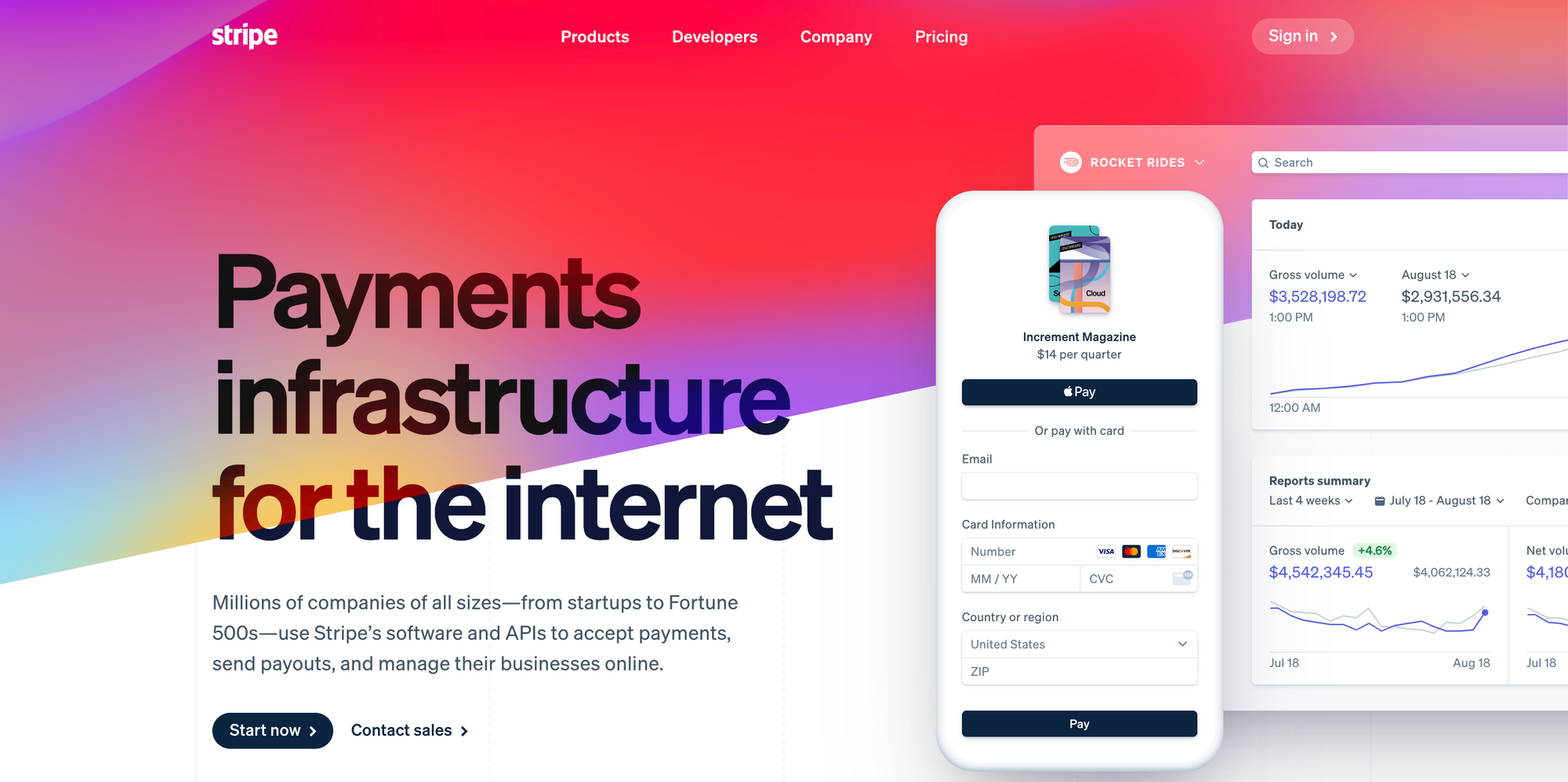 If you need a payment service provider for whatever your business is about,  there is a no-code tool for that as well. Many large companies such as Amazon, Uber, Spotify use Stripe to enhance their payment systems.
You can build your payment platform and integrate it with other sites in minutes. Stripe solved a very major problem, making a transaction online. It manages to achieve something better: Making it very simple!
Stripe does not offer a free tier and it gets %2.9 + $0.30 for each successful transaction.
10. SCAPIC
Grabbing customers' attention is one of the biggest problems in the e-commerce market. If you are in the game and want to get ahead of your competitors, then I have a very creative solution for you that needs no coding!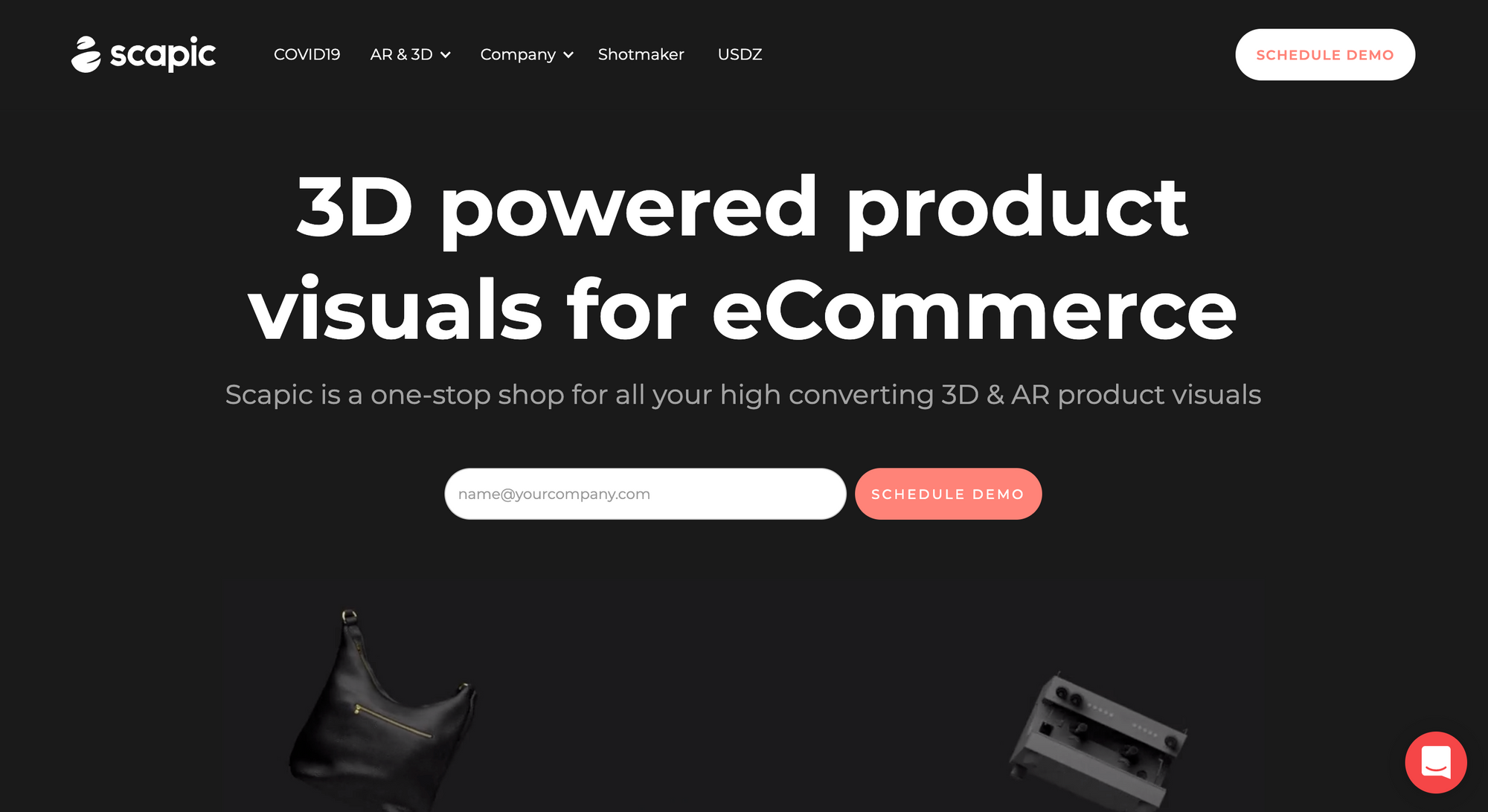 As a no-code tool, Scapic offers you the power of augmented reality. Your customers will have a brand new experience by featuring 360-degree views of all your products. You will offer a lot better representation of your products and increase your conversation rates very fast.
11. GLIDE
It still shocks me. Creating an app from my Google Sheets? Well, yes you heard right! It's time to present you a very innovative no-code development platform called Glide.
You can create your mobile application with great templates in less than 5 minutes. Glide offers various categories for you to choose the best fit for your business. You can create an app based on your needs such as managing your store or restaurant, planning your workload, or tracking your expenses, even for planning your workouts and more!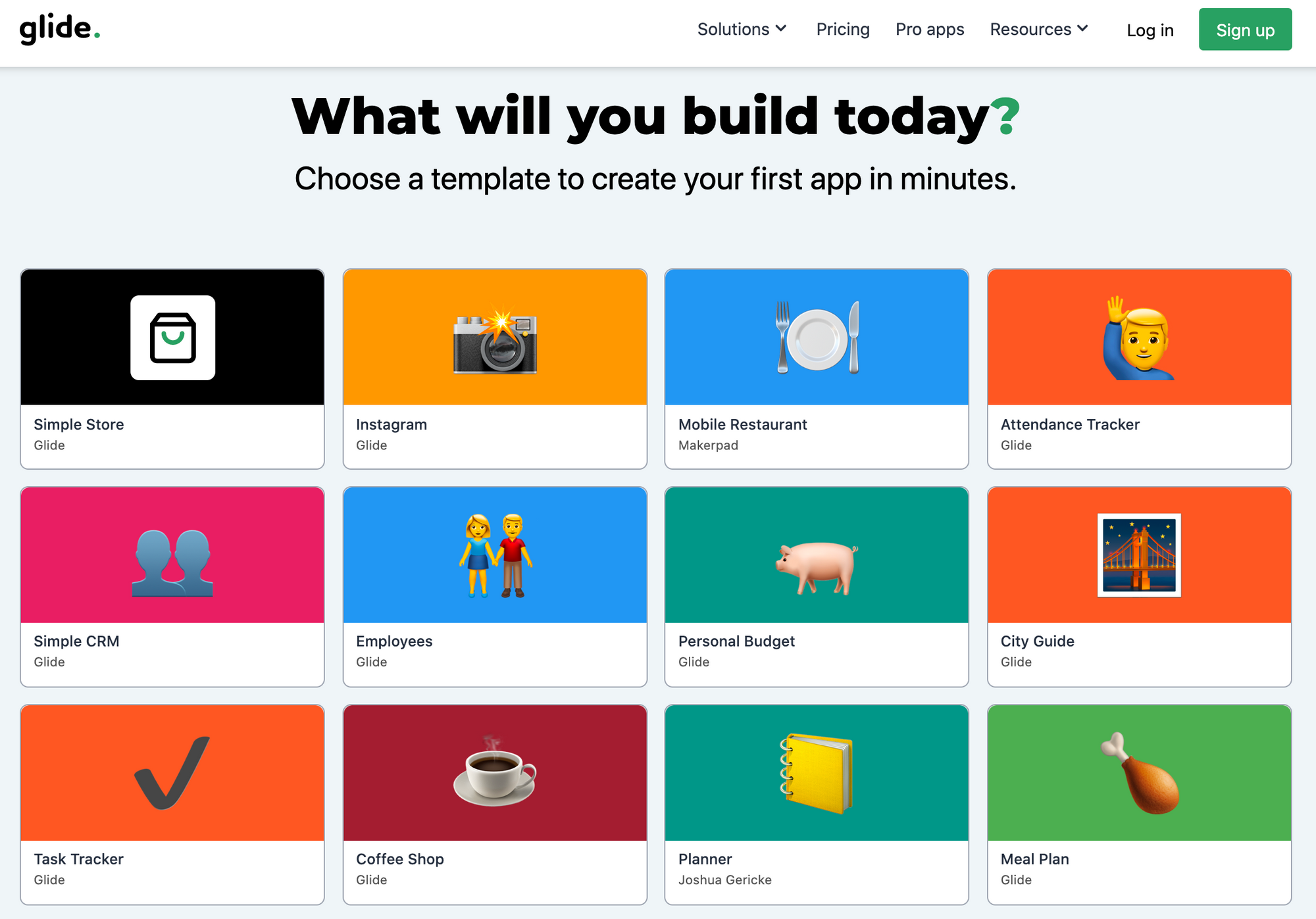 I think you will also be surprised like me when you give it a try. You can create a simple and small app for free. If you need more power and storage, you need to pay $19 per app a month.
12. MAILCHIMP
While building and growing your business, you need to focus on your target audience as well. You need to communicate with them in the best and efficient way. Mailchimp is the master at anything you need about that.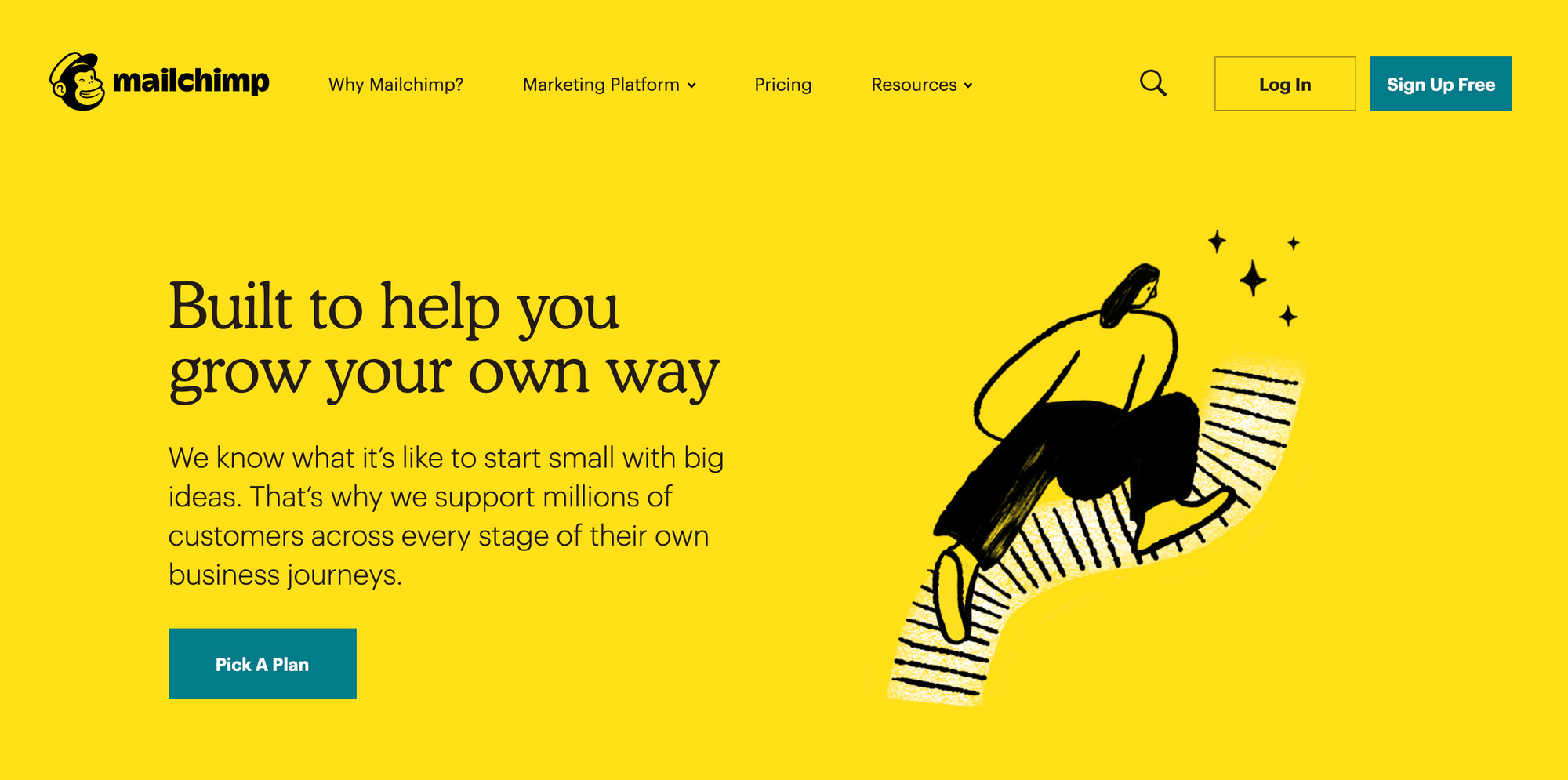 There are lots of features that you can try within Mailchimp. It is an all in one marketing no-code platform that allows you to collect customer information by conducting surveys, automate emails, add new customers by creating digital ads and even to create landing pages for boosting your sales!
You can try Mailchimp and get all the basics for your business for free. It recommends the standard package to have advanced audience insights for $14.99 per month.
If you want to build a simple web form for your web application, static site or your personal blog using Wordpress, Ghost or any other website builder you like, Getform is what you need. Getform is a "no-code" form building platform where you can create an endpoint to start gathering form submissions for any online web form you create.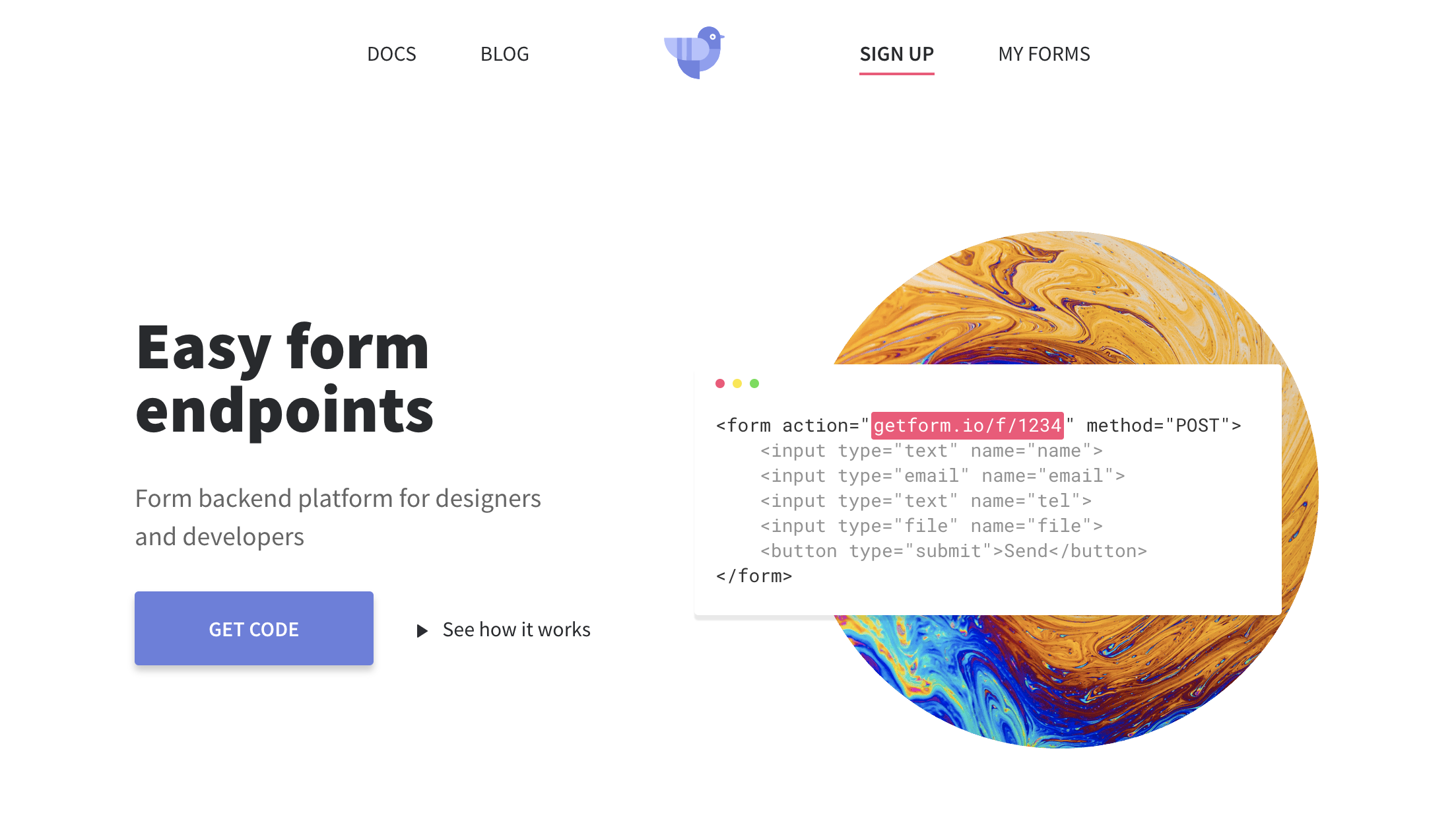 It allows you to setup email notifications and autoresponses for each form submission you receive to your form and also provides advanced spam filtering and Google reCaptcha v2 and v3 integrations to keep your forms spam free!
With the file upload support and the Zapier integration, it lets you extend the usability of your form further. You will be surprised how simple the form handling should have been after you give Getform a try!
Free tier offers 100 submissions, 100MB File upload storage for file uploads and 1 team member invitation. If you need custom thank you page, unlimited submissions and more forms, then you need to pay 9$/month for Basic plan, 29$/month for Agency plan (the most popular) and 69$/month for Enterprise plan.
FINAL THOUGHTS
Yes, you opened the gate! Welcome to the no-code world!
We hope that you enjoyed reading our post and getting to know the no-code tools and platforms that can help you to build or grow your business very easily.         Once you get a taste, you will be a part of the no-code revolution and feel the power right away!
If you liked our post, then please share and follow us on Facebook and Twitter for more updates from our blog!
---
Thank you for reading! We keep enhancing Getform by listening to you, leave us your feature requests at https://getform.nolt.io or vote on the existing ones.
Checkout our Codepen page, Codesandbox page, Github page  and Documentation for more information and samples.