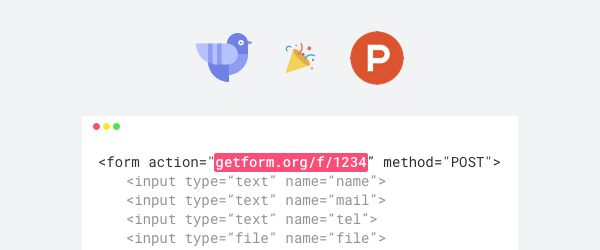 Hello fellas!
We have some great news!
First of all, with a little bit of delay, we have successfully completed the migration to our new infrastructure and Getform 2.0 is now officially located at getform.io ?
Your account, forms, uploaded files and your form endpoints with the ".org" domain name should be working fine as before since we'll keep supporting these types of submissions for some more time. But new form endpoints created on Getform will have only ".io" domain prefix.  As we indicated in our previous email, we kindly ask you to check and let us know if you believe something doesn't work well for you in the new version.  
We are live on Product Hunt & Cyber Monday Deal!
Another exciting news for us is our Product Hunt launch. We are so excited to announce after months of hard work to Getform 2.0 on Product Hunt ?.
If you have a moment today, please take a minute to visit our Product Hunt page and support us by upvoting.
Special to our PH launch and Cyber Monday, we have made a huge discount of 40% on all our new yearly plans. You can visit our updated pricing page here to grab the deal.
Whats new on Getform 2.0?
With this migration, we have  added several new features such as long waited Zapier Integration, advanced file management with preview option and also revisited our pricing plans.
In the new version, free plan holders can collect up to 100 submissions again. Paypal will no longer be supported as a payment method but we have added Stripe credit card processing instead.
Lastly, GDPR compatibility is added to our platform. You can visit our updated Terms of Service and Privacy Policy, . For your questions regarding your privacy on Getform, you can send an email to privacy@getform.io
Current Premium Holders now part of "Enterprise Plan"
As part of this new release and the migration, we have decided to carry all of our current premium plan holders to the best plan ("Enterprise") in our revised pricing as a thank you for trusting us your form backend service.  
If you are a current pro account holder, you don't need to enter any credit card info or change any info. Your enterprise plan will stay active until the end of your old billing ending period.  When this period ends, you will be asked to provide a credit card information to continue with your enterprise plan or downgrade to other plans that suits your needs.
PS: If you have subscribed to our upcoming launch on PH, your 2 months of free Basic plan subscription will be activated soon after you signup/login to Getform.
Additional Questions?
We are here to help! If you have any questions, let us know at info@getform.io.
Mertcan
Co-founder, Getform
Easy form endpoints for your forms